I don't know what's going on, it must be full moon or something, because the fake geeks are coming out of the woodwork. I'm not hating on anybody if they're not into comics or whatever, but don't go shooting your mouth off, acting like you know something, when the facts are easily Googleable.
Example one: "
That would be a snappier answer if Whedon had invented Buffy
" (uh, he DID invent Buffy). Scroll down to see this comment.
Example two: "
Man, [Wanda and Pietro] weren't even raised by Romani parents, they were raised by Bova and the rest of High Evolutionary's weird animal hybrids after Anya died
."
Oh my fucking god. Django and Marya Maximoff absolutely DID raise 616 Pietro and Wanda, and they absolutely were their parents. They were not their parents biologically, that being Magneto and his wife Magda, but they were their parents in every way that counted. They fed them, clothed them, loved them.
They were Pietro and Wanda's mom and dad
. Bova only took care of them for maybe a few weeks at most after Magda died. They were this old when Django and Marya Maximoff adopted them: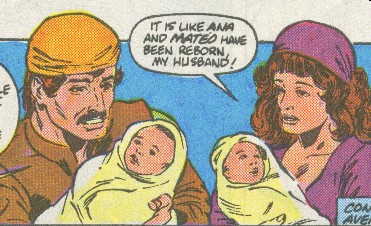 I'm also a-gog at some of the Tumblr people freaking out over Wanda and Pietro's Jewishness being erased in the movies. First of all, we know next to nothing about MCU Wanda and Pietro. All we know is that Aaron Taylor-Johnson's gone on record saying they're Gypsies from Eastern Europe. 616 Wanda and Pietro are not just half-Romani by blood (through Magda) they were raised as Romanies by Django and Marya. More than that, neither of them even knew they were half-Jewish until well into adulthood. They didn't know Magneto was their father! Magda killed herself to cover her tracks and keep the twins from them! 616 Wanda and Pietro are only Jewish by heritage, and that heritage was kept from them for most of their lives. There are better examples of Jewish heroes if you're looking for representation.